A guide on how to get started with Invisalign® treatment monitoring through the MyInvisalign app to ensure safe, effective, and efficient care supervised by your orthodontist.
We are excited to start your Invisalign® journey in a new and innovative approach. We won't let recent changes with health/safety requirements get in the way of you achieving the smile you've always dreamed of. Your treatment will progress in the safest and most efficient way possible.
In order for us to get started and monitor your treatment, you will be submitting photos to us every 1-4 weeks through the MyInvisalign app. This will ensure safe, effective, and efficient care- always supervised by our orthodontists.
You should have received an email and/or text message from Invisalign®, welcoming you to our Virtual Care Center. If you do not see the email, please check your spam folder.
The next step is to download the MyInvisalign App and create an account. The link will direct you to the app store if you have not downloaded the app previously.
Note: If you have previously created an account on the app and you deleted the app, you may need to re-download it.
The app will prompt you to create an account. You will enter your Aligner ID, which is located on the bags your aligners come in. Please update your profile with the aligner you are currently wearing, wear schedule, etc.

3. Please reference the attached Virtual Care Patient Guide in order to get started with your virtual care.
Note: You are not required to use cheek retractors to take progress photos. You may carefully use household spoons as shown, in order to pull cheeks back. If you do not have a friend to take the video, photos will suffice and can usually be taken by yourself. We would also like to see your gum line in photos, if possible.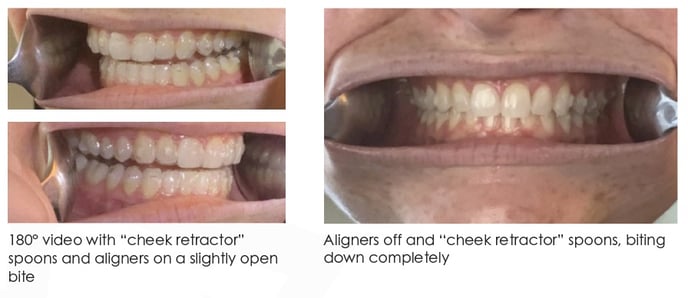 4. Practice!!! Once you are all set up, click the My Care tab on the lower right and submit photos so we know you are ready to go!
Once your MyInvisalign App account is all set up, your orthodontist can closely monitor your Invisalign® treatment using Invisalign® Virtual Care. If you have any questions, please feel free to call us or email us and we will be glad to assist you.